118 West 3rd Street
NYC, NY 10012
(212) 475-9677, (212) 477-4902 [FAX]
Buy & Sell Rare Records & CDs. Specializing in Rare & Import Music.

---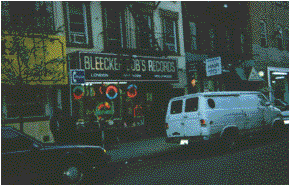 It's doubtless that Bleecker Bob's is a landmark. This shop has been dealing in all sorts of peculiar music for as long as anyone can remember. It has some of the feel of CBGBs in fact; the floor looks like it's been stomped to death by generations of myriad musical subcultures in heavy boots, and that's basically what has occured. The shop has the feel of a well thumbed reference book; always on the verge of falling apart, but the grit and sheer will of it's users holding it together.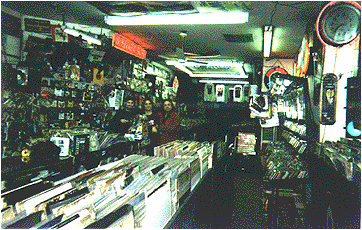 Of course, there has to be a reason why Bleecker Bob's has been such a phenomenon. The prices are not the best downtown, and the selection varies. The shop's proprietor, Bob, is a curmudgeon with a gruff demeanor that rub some people the wrong way. Nevertheless, when there was no other source for Gothic and Industrial records, Bob took the risk and carried them. In fact, the categories in the bins influenced a lot of customers subconsciously; seperate but adjacent bins for "Dance Industrial" and "Noise Industrial" for instance. You will find rarities at Bleecker Bob's.
Though the staff seem to revolve quite a bit, the long-standing people tend to be helpful and knowledgeable about music in general. Occasionally one can persuade one of them to put on a disk and play a few tracks, so one can hear if the item is of interest.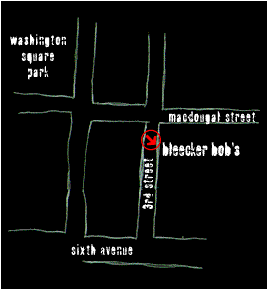 Bleecker Bob's is extremely accessible; accounting for some of it's popularity. It's only a half a block distant from one of the exits of the West 4th Street subway station, is just Southwest of Washington Square Park, and as a consequence is extremely close to New York University. It is flanked by a parking garage and a greasy pizzeria; a 24 hour McDonalds is only a few doors down.
Commentary by Clifford H. Low, Thursday, October 31, 1997.