210 Thompson Street
NYC, NY
(212) 254-1100 | (212) 254-4376 (FAX)


---
Generation has been known as one of the better hardcore and punk record shops for the past few years. Of late, the store has earned a bit of a reputation for their gothic and industrial selections, which are mixed right in with everything else in this somewhat chaotically organized store. However, once you get past the rows and rows of cd s under the letter of your choice, you'll likely walk off with what you want, making Generation the best bet for CDs in NYC.
The spacious, two floor store offers good prices on import and domestic CDs, as well as on a vast array of bootlegs. Artists span the genres from Death In June to Lycia to Die Form to Skinny Puppy to The Cure to Sunshine Blind. If it's not in when you're looking for it, chances are it's on order and will be in next visit.
The basement has an incredible selection of vinyl, with most of the 80's new wave priced under $4, as well as industrial and gothic vinyl in smaller amounts. The obligatory Cure, Siouxsie, Smiths, Depeche Mode and New Order are well represented, and it seems as if they get new vinyl all the time.
Though Generation is still mainly the ultimate resource for punk and hardcore music, they're really starting to carry a huge selection of goth and industrial. For this reason alone, the store deserves support and encouragement from the community so they continue to do so.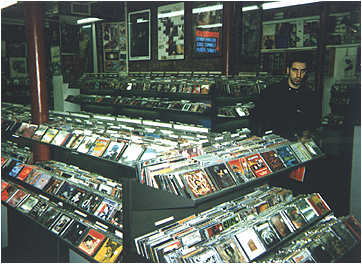 Commentary by Joan Rachel Dennis, Friday, January 2, 1998.