Ians
5 St Marks Place
NYC, NY
(212) 420-1857


---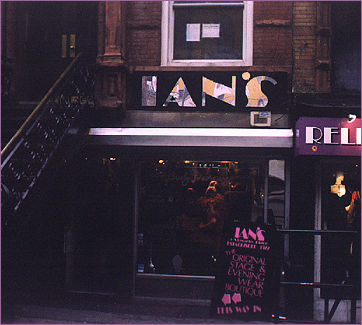 Ians is another one of those boutique stores with a distinctive gothic/industrial feel to it. Spread out over the almost immaculate store are clothing, shoes and jewelry that will likely catch the eye of the person that walks into this store, which looks rather unassuming from the street.
Walk down the two steps out front and enter the almost classy, yet somewhat trashy boutique. Tulle skirts, bustiers, vests and tight, slinky dresses mesh together on the racks, looking like a closet from hell. Lacy items mix with rubber ones, stiletto heeled boots stand right across the room from them. The jewelry counter at the front of the store holds piercing jewelry, beads, and trinkets.
The prices are fair, when comparing to other shops with similar wares in the neighbourhood. While the selection could be larger, the staff is often helpful and friendly, and the atmosphere of this small shop can not be beat.
Commentary by Joan Rachel Dennis, Saturday, January 3, 1998.