Religious Sex
7 St. Mark's Place
NYC, NY 10003
(212) 477-9037
Website: http://www.religioussex.com/


---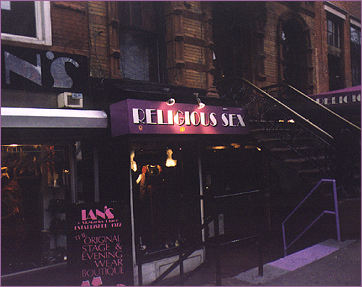 Located on St. Mark's Place — an area practically littered with trendy boutiques catering to the fetish/goth/industrial scene, what distinguishes "Religious Sex" from its competition is the sense that you are not walking into the East Village version of "Hot Topic", but a store that carefully selects its wares for style and substance.
Upon entering the store, you will notice it is divided into two rooms, each with sub sections. To your left you will find a good selection of fetish gear, embroidered corsets, petticoats, goth essentials (velvet dresses, sheer tops) and beautiful floor length renaissance-style gowns. Further back on the left side you'll find the shoe section - although fairly well limited to stilettos, and platforms.
On the entrance side of the store, along with the dressing rooms, is a wide selection of vinyl and PVC pants (in an assortment of sizes, colours and textures) , men's shirts, sale items and varied accessories (feather boas, rings, PVC gloves). By the door you may also find passes and flyers for current club events.
This is not the store where you will find that perfect pair of Doc Martens or a Bauhaus T-shirt. It is however the place where you will find an outfit that makes you feel seductive and beguiling. One caveat — Religious Sex is not for those who are on a very strict budget. Their clothing prices can run anywhere from under $50 for a top to over $900 for a dress, with most items averaging around $100 to $200. They carry a wide range of designers and lines that will fit into most budgets. On the expensive side, they carry Ghost and Jane Booke. While Eva Delgrande, Catherine Coatney and Lip Service represent the more moderate price ranges. Most budgets and body-sizes will be able to find something delicious at Religious Sex, especially if you're willing to use a little patience and ingenuity!
On the down-side, the store can be overrun on weekends by suburban alterna-kids looking for that perfect prom dress, or the ren-fair couple looking for a new outfit for their next medieval gathering. However, the beautiful yet lethal-looking sales associates do their best to help you get in and out of the store with your sanity, if not your wallet intact.
And there's nothing like walking down Broadway carrying a purple shopping bag with "Religious Sex" emblazoned in gold on it. The looks you get will be worth the prices alone!
Commentary by Emily Rees, Saturday, July 4, 1998.