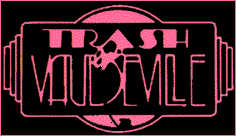 4 St Mark's Place
NYC, NY, 10003
(212) 982-3590 / (212) 260-2393 [FAX]
12-8:00PM M-Th / 11-8:30 Fri
11:30-9:00PM Sat / 1-7:30 Sun


---
Trash and Vaudeville are actually two stores, the latter sitting on top of the former. To get into Vaudville, you have to go up a black iron staircase reminiscent of a fire escape; to get into Trash you have to go down a few concrete steps into what otherwise might be a basement apartment. Vaudeville is full of bright colors and kitsch; chances are you'll prefer its alter ego— subterranean both literally and figuratively.
Trash is one of the seminal punk and goth stores of NYC. It has been open since the beginning of time, seemingly, and the merchandise seems to reflect that, covering a lot of the trends from the 70's to the 90's.
The front part is jewelry and clothes, the latter of the fetish variety. Lots of leather "undergarments", rubber dresses and similar fetishy clubwear. You will find brightly coloured mesh shirts, vinyl pants and black lace shirts. You'll find leather jackets and spiky rubber purses. You'll find sharp (again literally and figuratively) jewelry, including Marché Noir, Axel rings (which are the most exquisite, long jagged claw rings you will ever lay eyes upon), and piercing jewelry. Not to be forgotten, a rainbow of grim and perverse t-shirts is seen on the Eastern wall.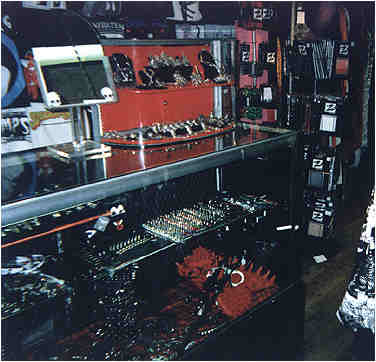 The back is almost entirely shoes. Doc Martins are piled on to shelves as far as the eyes can see, in all colours, styles and materials. If you are looking for a pair of spiked heel, thigh high boots with pictures of international flags on them, be sure to try here. It's likely you will find just what you are looking for, or something similar. Don't forget to scour the sales section: sometimes off sizes go on clearance, making it paradise for those of us with smaller or larger than the average size foot.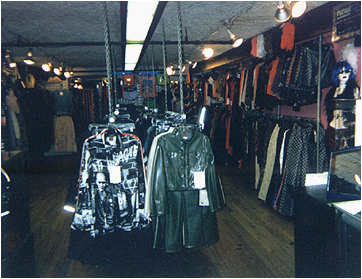 Vaudeville, should you ascend from the depths, is mostly clothing; with vinyl, rubber, leather, lace and old school punk plaid dominating. Looking for those bondage strap pants? This is a great place to try first. But the kitsch wristwatches, lunchboxes, lighters, and items impossible to describe, are also quite remarkable.
Even if you don't buy anything, or of the store seems a bit too trendy for you, this is a piece of NYC history. The store has changed a lot from it's humble beginnings as a $3-$5 store, but it still has tons of interesting items, even if the prices aren't as great as they were in the 80's.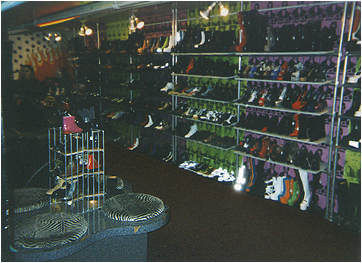 Commentary by Clifford Hartleigh Low with Joan Rachel Dennis, Monday, July 6, 1998.